Trampoline JumpPOD Ovaal 460x300x89cm Ovale JumpKing Black
Trampoline JumpPOD Ovaal 460x300x89cm Ovale JumpKing Black
Tags: jumpking jumppod 15 10 ft oval 460 unieke nieuwe zwarte ovale trampoline 460 300 89 cm all black ovaal nieuw staat zwart
€895,00
incl. btw
Trampoline JumpPOD Ovaal 460x300x89cm Ovale JumpKing Black
Deze nieuwe zwarte JumpPOD biedt een compleet pakket: een trampoline, een veiligheidnet en een ladder. Alles past perfect bij elkaar en is op elkaar afgestemd. Dit komt niet aleen de montage ten goede, maar maakt van de JumpPOD ook de mooiste trampoline op de markt.
Unieke zwarte ovale trampoline. U combineert de springkracht van een rechthoekige trampoline met de ruimte van een rond model.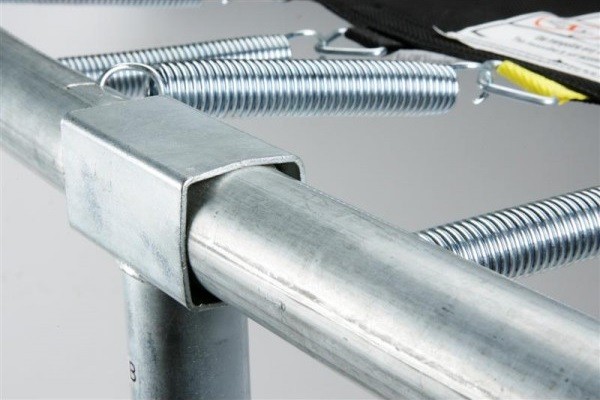 *) Unique over and under Eurospring™ design reduces stress on the frame and ensures optimum jumping performance.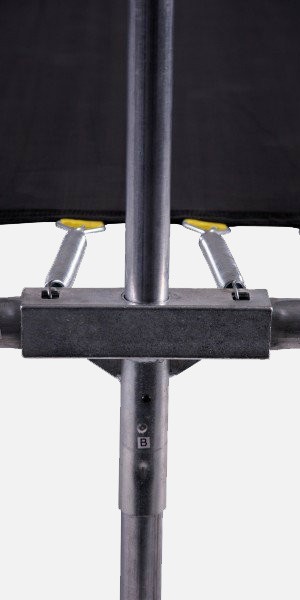 Sturdy tri-layer socket:
Our higher specificaiton JumpPOD range benefits from the patented and sturdy tri-layer socket, the enclosure poles slot directly into this socket which goes into the leg of the trampoline.
De OVALE JumpPOD van JumpKing. Niet rond, niet rechthoekig, maar ovaal!!
Met volledig geïntegreerd veiligheidsnet en zeer compleet geleverd. Een perfect design.
Buitenafmetingen
2m44 x 3m50
3m x 4m60
4m26 x 5m20
Afmeting springmat
2m14 x 3m20
2m70 x 4m30
3m96 x 4m90
Hoogte
90cm/273cm
90cm/273cm
90cm/273cm
Veren


46 x 17,8cm
16 x 16,5cm
74 x 17,8cm
16 x 16,5cm
86 x 17,8cm
16 x 16,5cm
Max. gewicht
95 kg
140 kg
140 kg
Verpakking



131,5x51x19cm/43,5Kg
131,5x51x19cm/41Kg


118,5x51,5x47,5cm/78Kg
118,5x51,5x23,5cm/56,5Kg


166x56x28cm/48,7Kg
166x56x13cm/48Kg
166x56x16,5/45Kg
Garantie frame
5 jaar
5 jaar
5 jaar
Garantie springmat
3 jaar
3 jaar
3 jaar
Garantie veren
3 jaar
3 jaar
3 jaar
Garantie randkussen
2 jaar
2 jaar
2 jaar
Garantie veiligheidsnet
1 jaar
1 jaar
1 jaar
Prijs btw incl.
(inclusief levering)
695 euro
895 euro
NEW-series: 'All Black'
1.105,- euro
NEW-series: 'All Black'
Afmetingen springmat
ø OvalPOD 430 x 270 cm
Lengte veren
21,5 + 17,8 cm
Dikte / Hoogte
70 - 99 cm / 250 - 279 cm
Uitvoering
ø OvalPOD 460 x 300 cm
Artikel, sets en bouwstenen
Combi - Trampoline incl. net
Handelsorganisatie: Zaterdag (.nl)
+31 (0)6 461 366 81, Patrick Bresser
+31 (0)418 640 240 (ook: 's Avonds)
Zaterdag, 'founder' van @YouAreAir
Hintham 60
Kerkdriel, 5331 CL
Nederland (KvK: 30241098)
info@zaterdag.nl
Volg ons
The Oval Pod from JumpKing is a complete trampoline set. Unlike traditional outdoor trampolines, the new OvalPod comes with an integrated safety net enclosure, which saves on costs, looks better (no ugly fixing brackets), and cuts down assembly time (and of course dis-assembly time if you need to be able to take it down). This combination set comes in one simple box, providing you with everything you need to get the whole family up and bouncing. The Jump King OvalPod is durable, attractively designed, and the enclosure netting is fully-supported by a horizontal shock-corded rod, creating a secure and impressive bounce arena. All in all, the Oval JumpPod is an innovation in outdoor trampoline design. This product is ideal for those customers who are looking for a good trampoline and want a simply-good solution in one easy-to-manage box (includes trampoline, enclosure and ladder) at a very competitive price!
Very Affordable Oval-shaped Integrated Trampoline & Safety Net
A one-stop-shop! trampoline, enclosure and ladder
Revolutionary design, trampoline and enclosure slot together as one unit - no need for brackets
Unique over and under Eurospring™ design gives optimum jumping performance
Everything you need, all in one product!
Satisfaction guaranteed!

The problem with round trampolines is that the size is often limited by the garden width, significantly compromising performance and usability. For example, a 10ft round trampoline may fit into a narrow garden, but with few springs and small jumping area it will not be suitable for use by older children and adults. The Oval Pod from Jumpking is the perfect solution. With a width of 10ft, the Ovalpod can fit into narrower gardens, yet its length is 15ft, meaning it has a much larger jumping area than the equivalent circular trampoline. And, most importantly, the OvalPod has the space to pack in 90 springs, making the springing strong enough even for adult use.
Features: Fully stitched-in enclosure for added safety. The elegant design ensures easy set up and a taught enclosure. Horizontal quick-fit shock corded rods create a safe and secure enclosure. Unique Tri-Layer socket greatly enhances safety and durability. Poles slot directly into Tri-Layer socket, eliminating the need for brackets. Fully fastened entry/exit door for maximum security. Fully galvanised steel frame. Made by Jumpking - the biggest trampoline manufacturer. New over and under Eurospring™ design reduces stress on frame and ensures optimum jumping performance Handy shoe bag for storage.

Yet More Stability - Safety enclosure featuring patented shock-corded rods. enlarge Over and under Eurospring™ design reduces stress on frame and ensures optimum jumping performance.
Oustanding Build Quality, Stability & Safety Extra thick 57mm heavy duty galvanised legs.
Length 15ft (4.6m)
Width 10ft (3.0m)
Height 89cm/35"
Frame: High-strength 57mm (dia) x galvanised steel W-Legs, 1.5mm (gauge/thickness)
Jumping Weight Limit (approx) 22 stone/140kg
Jumping Bed: Heavy-duty permatron
Springs: 90 x 7"/18cm
Surround Pad: Black closed-cell foam with laminated vinyl 250mm wide x 20mm deep
Safety Standards: ASTM and TUV
Free Accessories: Ladder
5 Year Guarantee on Frame, 3 Year Guarantee on Jumping Bed & Springs, 2 Year Guarantee on Pads and 1 Year guarantee on the Enclosure Net